Conference proceedings
September 30, 2016.
Dear CAADence-ian, 
We are glad that you could participate in the workshop/conference. We hope it was a good opportunity to learn, get to know each other and have a great time.
At the conference, we gave you the first version of the proceedings. Since then, we have updated some of the documents after consulting with the authors. 
You are welcome to download this final edition PDF version or you may order a print version as well. In this case, please send an e-mail to CAADence-proceedings [at] arch.bme.hu.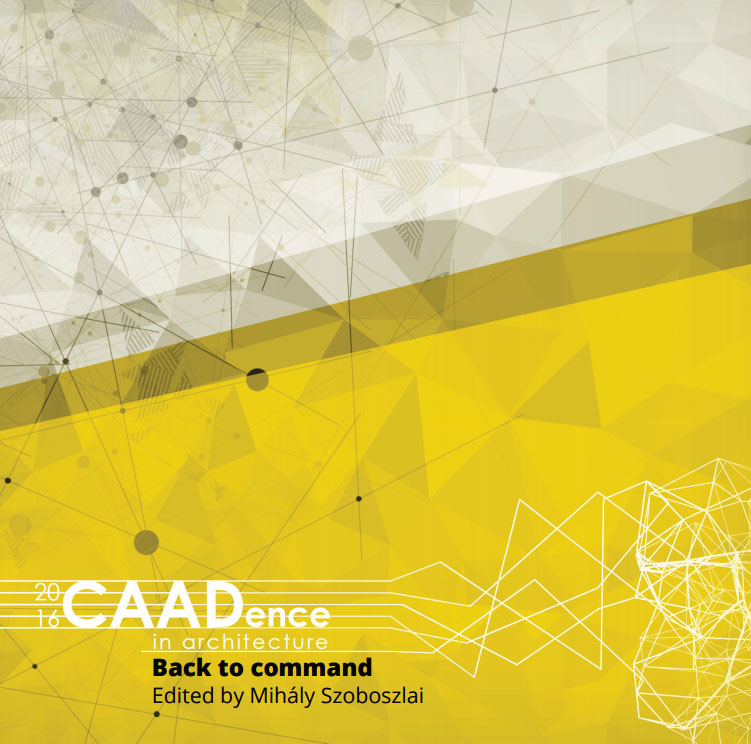 Print version of the CAADence proceedings [final edition]
cost: 15 EURO plus shipment cost
 
The whole volume of the proceedings of "CAADence in Architecture", final edition (pdf) available at:
DOI: 10.3311/CAADence
ISBN: 978-963-313-225-8
ISBN: 978-963-313-237-1 (online version)
Keynote speakers
Reinhard König
Backcasting and a New Way of Command
in Computatonal Design
DOI: 10.3311/CAADence.1692
Kazumi Yajima
Kajima's BIM Theory & Methods
DOI: 10.3311/CAADence.1656
Branko Kolarevic       
Integrated Design
DOI: 10.3311/CAADence.1693
Shape grammar              
A1.1 Shun Watanabe
Minka, Machiya, and Gassho-Zukuri Procedural
Generation of Japanese Traditional Houses [14]
DOI: 10.3311/CAADence.1614
A1.2 Gabriel Wurzer, Wolfgang E. Lorenz
Towards rating of generated typologies
by means of adjacency comparisons
DOI: 10.3311/CAADence.1684
A1.3 László Strommer
3D Shape Grammar of Polyhedral Spires [72]
DOI: 10.3311/CAADence.1672
 
Smart Cities                       
A2.1 Matthias Kulcke
Connecting Online-Configurators (Including 3D Representations)
with CAD-Systems Small Scale Solutions for SMEs
in the Design-Product and Building Sector [60]
DOI: 10.3311/CAADence.1660
A2.2 Sabine Ritter De Paris, Carlos Nuno Lacerda Lopes
Enhancing Housing Flexibility Through Collaboration [59]
DOI: 10.3311/CAADence.1659
A2.3 Kari Szabolcs
BIM to GIS and GIS to BIM [45]
DOI: 10.3311/CAADence.1645
Modeling with Scripting              
A3.1 Helen Lam Wai-yin, Vito Bertin
De-Script-ion: Individuality / Uniformity [82]
DOI: 10.3311/CAADence.1682
A3.2 Bálint Péter Füzes, Dezső Hegyi 
Parametric Details of Membrane Constructions [47]
DOI: 10.3311/CAADence.1647
 
BIM                           
B1.1 Michio Matsubayashi, Shun Watanabe
Forecasting Time between Problems of Building
Components by Using BIM [37]
DOI: 10.3311/CAADence.1637
B1.2 Ingolf Sundfør, Harald Selvær
Bim as a Transformer of Processes [90]
DOI: 10.3311/CAADence.1690
B1.3 Lei Xu
Integration of Facility Management System and
Building Information Modeling [50]
DOI: 10.3311/CAADence.1650
Smooth Transition                  
B2.1 Mohammed Mustafa Ezzat
A General Theory for Finding the Lightest
Manmade Structures Using Voronoi and Delaunay [23]
DOI: 10.3311/CAADence.1623
B2.2 Szilvia B.-S. Béla, Márta Szilvási-Nagy
Changing Tangent and Curvature Data of
B-splines via Knot Manipulation [15]
DOI: 10.3311/CAADence.1615
 
Media Supported Teaching           
B3.1 Pia Fricker
Developing New Computational Methodologies
for Data Integrated Design for Landscape Architecture [68]
DOI: 10.3311/CAADence.1668
B3.2 Kateřina Nováková
Ambient PET(b)ar [77]
DOI: 10.3311/CAADence.1677
B3.3 Verónica Paola Rossado Espinoza
The importance of connectivism in architectural
design learning: developing creative thinking. [70]
DOI: 10.3311/CAADence.1670
B3.4 Lidija Pletenac
Geometric Modelling and Reconstruction of Surfaces [71]
DOI: 10.3311/CAADence.1671
 
Collaborative design and Simulation   
C1.1 Andrei Smolik
Responsive interaction in dynamic
envelopes with mesh tessellations [89]
DOI: 10.3311/CAADence.1689
C1.2 Tamás Ther, István Sajtos
Horizontal load resistance of ruined walls
case study of a Hungarian castle with the
aid of laser scanning technology [39]
DOI: 10.3311/CAADence.1637
 
Generative Design 1.              
C2.1 Günsu Merin Abbas, İpek Gürsel Dino
Visual Structuring for Generative Design Search Spaces [30]
DOI: 10.3311/CAADence.1630
C2.2 Juan José Castellón González, Pierluigi D'Acunto
Stereotomic Models In Architecture A Generative Design
Method To Integrate Spatial and Structural Parameters
Through the Application of Subtractive Operations [28]
DOI: 10.3311/CAADence.1628
 
Visualization and Communication     
D1.1 Benjamin Heinrich, Gabriel Wurzer
Towards the Measurement of Perceived
Architectural Qualities [84]
DOI: 10.3311/CAADence.1684
D1.2 Wolfgang E. Lorenz
Complexity across scales in the work of Le Corbusier
Using box-counting as a method for analysing facades [85]
DOI: 10.3311/CAADence.1685
D1.3 Andre Chaszar
Issues of control and command in digital design
and architectural computation [75]
DOI: 10.3311/CAADence.1675
D1.4 Dóra Surina, Gábor Bödő, Konsztantinosz Hadzijanisz,
Réka Lovas, Beatrix Szabó, Barnabás Vári, András Fehér
Integrating Point Clouds to Support Architectural
Visualization and Communication [79]
DOI: 10.3311/CAADence.1679
 
Generative Design 2.              
D2.1 Francesco De Luca
Solar Envelope Optimization Method for
Complex Urban Environments [57]
DOI: 10.3311/CAADence.1657
D2.2 Bálint Botzheim, Patricia Emy Kikunaga, Kitti Gidófalvy,
András Szollár, András Reith
Performance-oriented Design Assisted by a Parametric Toolkit - Case study [66]
DOI: 10.3311/CAADence.1666
D2.3 Réka Sárközi
Classification of Parametric Design Techniques [61]
DOI: 10.3311/CAADence.1661
D2.4 Delia Dumitrescu
Time-based Matter: Suggesting
New Formal Variables for Space Design [65]
DOI: 10.3311/CAADence.1665